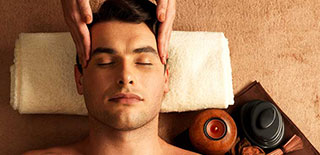 Ayurveda Indian Head Massage
Indian Head Massage is based on the Ayurvedic system of healing which has been
practiced in India for over a thousand years. It's based on the belief that health and
wellness depend on a delicate balance between the mind, body, and spirit.
According to Ayurveda, there are 108 vital points on the body. These are referred to
as Marma points. 
Is an Indian Head Massage relaxing?
Yes. Massage releases stress accumulated in the tissues, muscles and joints of
the head, ears, face, neck and shoulders. These areas are massaged using firm yet
gentle, rhythmic movements that involve acupressure on Marma points.
Benefits of Ayurveda Indian Head Massage
Indian Head Massage is used to:
Relieve eyestrain and insomnia.

Ease headaches and migraine.

Relax the muscles.

Stimulate hair and scalp.

Help localised blood and lymphatic circulation.

Boost the immune system.

Restore joint movement.

Relieve sinusitis.

Reduce stress.

Release anxiety.
Pricing: $75 for 1 hour.  Travel within 20km of Warragul included.  Contact us for pricing on further locations.